[Report] Decoiler Straightener Feeder And Power Press News In Aug, 2019
Welcome to meet our engineer In Georgia! (Sept 21st-25th)
Machine News:
Compact feeder GLK4-1000H Manufacturing
6 sets of Decoiler Straightener GL-300 to Europe
Fast NC Servo Feeder for Wire to SA
NC Servo Feeder 3 sets installed in Indonesia
NC Servo Feeder RNC-300 with Siemens system to Georgia
Press Machine to Albania and Brazil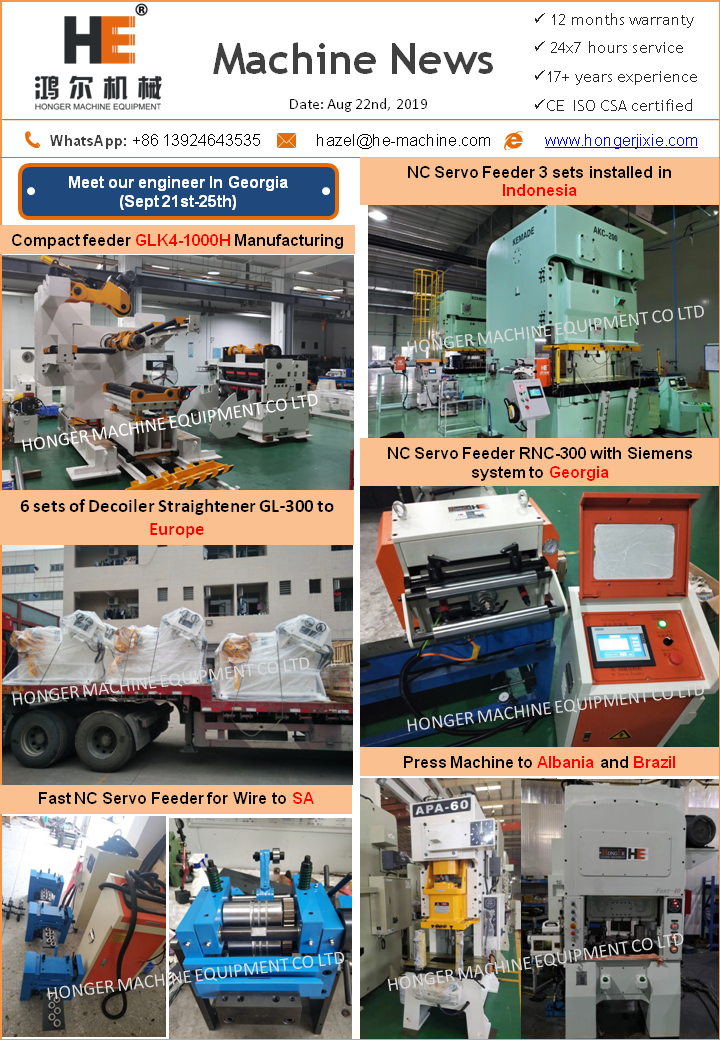 About HongEr Machine
HongEr Machine is located in Shenzhen and Dongguan in South China, next to Hong Kong. With convenient transportation, high quality human resources supply, HongEr Machine has grown into one of the leading manufacturers of machines for metal stamping business.
HongEr Machine manufactures various types of machines, such as decoiler, straightener, feeder, transfer manipulator, punch press machines and other related equipment / tool. These machines and equipment are widely applied in metal stamping industries all over the world.
Our decoiler, straightener, feeder, manipulator and punch press machines are highly recognized among our customers and their local markets.
Besides, you can rely on our after-sale services to respond within 0-10 hours and being patient and professional.
Contact Us
Hazel Wu (Sales Manager)
Email: hazel@he-machine.com
Mobile: +86 139 2464 3535 (WhatsApp/Wechat)
Please feel free to contact us for an inquiry. Get in touch now! ---->
Address:

1601-1602,A4 Building,Zhujiang Plaza,Longxiang Road,Longgang District , SHENZHEN , GUANGDONG